Creative Arts Program of East Meadow
CAPE Fall 2023
Registration Information
Program Information
Fall Brochure
Calendar
Helpful CAPE Summer Links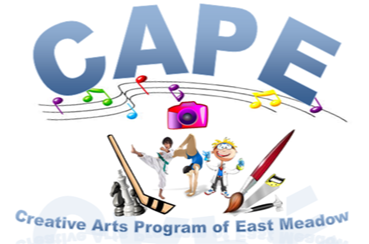 The Creative Arts Program of the East Meadow School District offers youngsters a fantastic variety of craft, physical exercise and educational courses for children ages 4-12.
Fall 2023 Program Information
October 17, 2023 - January 6, 2024
All classes to be held at McVey Elementary School
CAPE Registration Information
Registration Update 9-18-23
CAPE registration will resume on Tuesday, September 19th at 10:00am. All previous registrations that were successfully processed prior to the software shut down have been recorded. All classes will be open and available for registration. If you have any questions, please feel free to contact the CAPE office. All contact information and updated program details are located on the East Meadow School District website under the "For Community" tab. We apologize for any inconvenience.
McVey Elementary School
2201 Devon 740 Edgewood Drive
Westbury, NY 11590