Creative Arts Program of East Meadow
CAPE Summer 2023
Registration Information
(Registration begins March 13th!)
Program Information
Summer Brochure
Calendar
Helpful CAPE Summer Links
Spring 2020 Vouchers
If you are planning to use a Spring 2020 Credit Voucher to apply credit to your Fall CAPE payment, please use the steps that follow:
Select the Check Payment option when registering your child.

E-mail CAPE to let us know of your intent to use voucher. A return email from CAPE will alert you to the remaining balance.

The remaining balance will be paid by check.
Please make the check out to: CAPE
Mail the check to: McVey School
Attn: CAPE
2201 Devon Street
East Meadow, NY 11554
Please note that all spots will be held upon registration. Payments must be received before the start date of the class(es).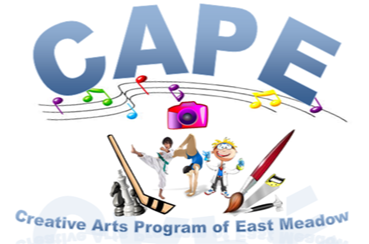 The Creative Arts Program of the East Meadow School District offers youngsters a fantastic variety of craft, physical exercise and educational courses for children ages 4-12.
Summer 2023 Program Information
July 5 - July 27
All classes to be held at W.T. Clarke Middle School
Summer 2023 registration will open on March 13th!!
(Online registration only)
Spring 2023 CAPE Brochure